Energy Efficient Lighting and Appliances in EAC and SADC (EELA)
The Energy Efficient Lighting and Appliances (EELA) project aims to support the development of vibrant markets for energy efficient lighting and appliances across East and Southern Africa. Efficient electricity use in homes, businesses and public facilities in these growing regions is one of the fastest and cheapest ways of accelerating sustainable development. A preparatory phase of the project started in August 2018 and resulted among others in conducting baseline studies, developing the theory of change for the project, consulting stakeholders, developing implementation arrangements and partnerships and in the validation of the project intervention strategy. The full EELA project started in June 2019 with a duration of 5 years.
The project is implemented by the United Nations Industrial Development Organization (UNIDO) and executed with support from the East African Centre of Excellence for Renewable Energy and Efficiency (EACREEE) and the Southern African Development Community Centre for Renewable Energy and Energy Efficiency (SACREEE). Technical support is provided by the Swedish Energy Agency (SEA) and CLASP. The project is funded by the Swedish International Development Corporation (Sida).
The Challenges EELA will Address 
To create vibrant markets for energy efficient lighting and appliances consumer choice, policies and regulations, as well as private sector engagement are some of the key factors that require addressing.
In markets awash with outdated and inefficient products that use a lot of costly energy, consumers need more choice. Stronger policies and regulations are also urgently needed to cover a range of issues, for example, protecting local markets from becoming dumping grounds for technologies that are banned in other countries. Meanwhile, incentives are needed to encourage the private sector to offer energy efficient products and services.
The Opportunities and Benefits 
Addressing these issues will help create vibrant markets supported by enabling policies and regulations, where suppliers offer quality products and services, and governments have the capacity to enforce standards, while consumers are aware of and are demanding quality energy efficient options. There are many flow-on benefits from this. The burden on national grids drops, giving more people reliable electricity, while businesses become more competitive, households save, and CO2 emissions fall. Energy efficient lights and appliances also offer cheap and reliable options for communities managing decentralized renewable energy systems. As the cost of these systems drop, they are growing in popularity and could be a real solution for the many people currently not connected to national grids.
All of this contributes to faster, cleaner economic and human development across East and Southern Africa.
The EELA Approach to Change
Over five years (2019 – 2024), the EELA project will implement a broad range of activities on energy efficient lighting and appliances in four key areas across the 21 Member countries of the Southern African Development Community (SADC) and the East African Community (EAC):
MARKET INCENTIVES will be put in place to stimulate the uptake of energy efficient lighting and appliances. The project will offer supply chain actors technical assistance and financial incentives to deliver efficient and high quality energy services.

POLICIES AND REGULATIONS for energy efficient lighting and appliances will be improved through the project, with an eye on making them gender and climate responsive. This will involve developing a regional framework for lighting and harmonised Minimum Energy Performance Standards (MEPS) for various product groups. It will also involve addressing environmental issues such as the safe 'end of life' disposal of lighting and appliances, including disassembly and recycling.

BUILDING THE CAPACITY OF GOVERNMENTS standards setting and accreditation bodies, as well as testing facilities and the private sector will also be an important part of the programme through workshops, webinars and other events. A network for sharing knowledge within the regions will be established. In particular, the project will offer testing centres support with equipment and capacity building.

RAISING AWARENESS about the benefits of efficient technologies amongst market players, policy makers and consumers will be critical. Through the project, public information campaigns using TV, radio, social channels and outreach events will promote the multiple benefits of switching towards energy efficient lights and appliances, addressing women and men equally.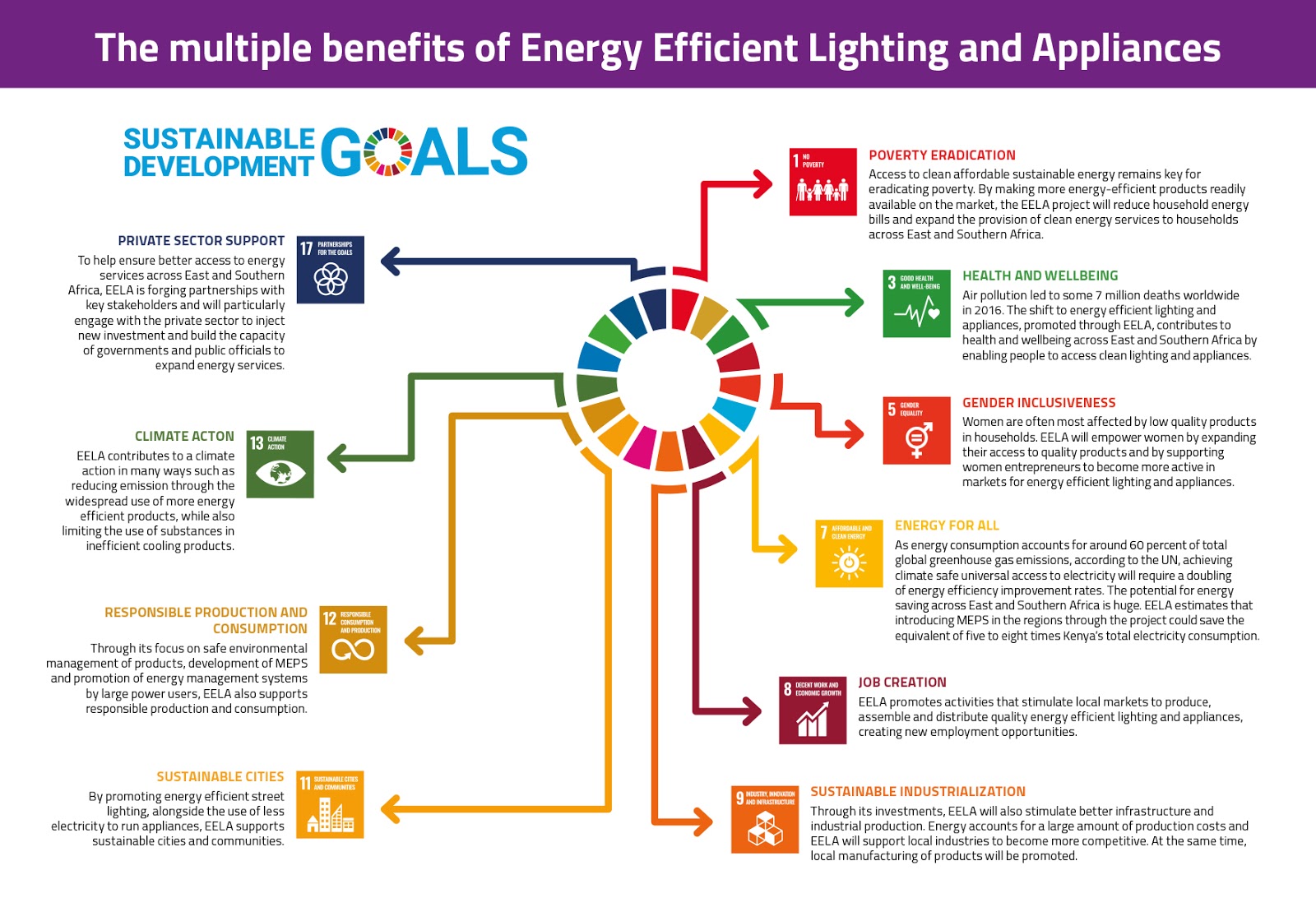 Image: